I first met Katie and Todd when they stopped by my booth at the Albany Bridal Show. Well, I thought that was the first time I'd met Todd, but turns out that we used to know each other. 10+ years ago when I was first dipping my toes into the wedding industry while working at Mr. Formal in the Albany Heritage Mall – Todd worked at the Radio Shack kiosk right in front of my store and we spent many afternoons chatting away with each other to beat the boredom. But, we wouldn't make that connection until we did our first official planning meeting, so I'll take you back to the Albany Bridal Show meeting.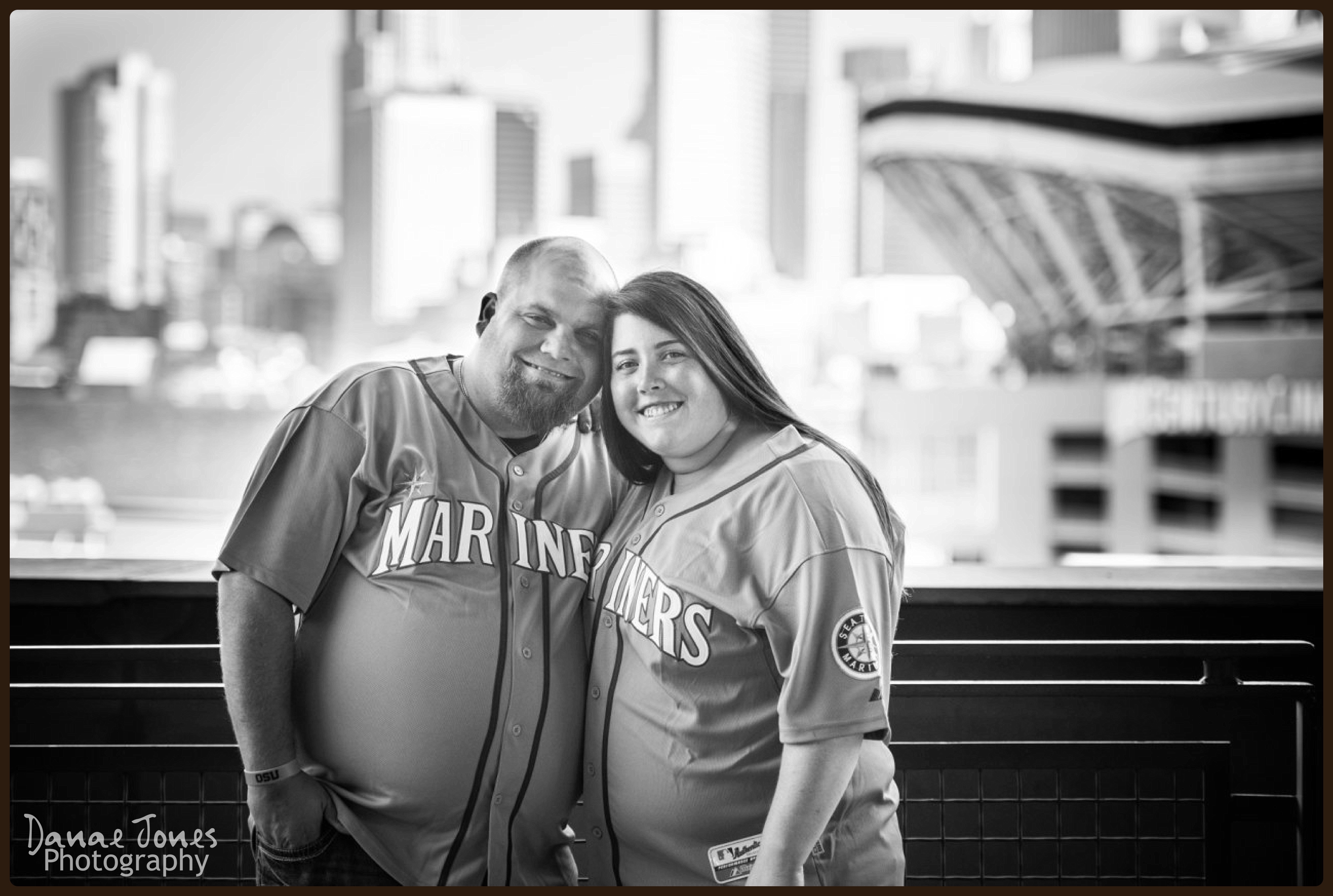 As they were talking to me at my booth they shared that they had met playing softball and were big fans of all things baseball/softball related. They told me that their wedding was going to be baseball themed and then went on to share that they wanted to do their engagement shoot at Safeco Field, home of The Mariners, in Seattle, Washington. Well, for those of you that know me, or have spend any time on my blog or Facebook, you know that I'm always game to travel to new locations to shoot, and the opportunity to do something as cool as photograph an engagement shoot at Safeco Field was something I just had to be a part of! I was so excited about their vision and plans and immediately told Katie and Todd that I would LOVE the opportunity to document their engagement experience. We've stayed in close touch for the past nine months, planning out the details of their shoot until finally the chosen September day came around.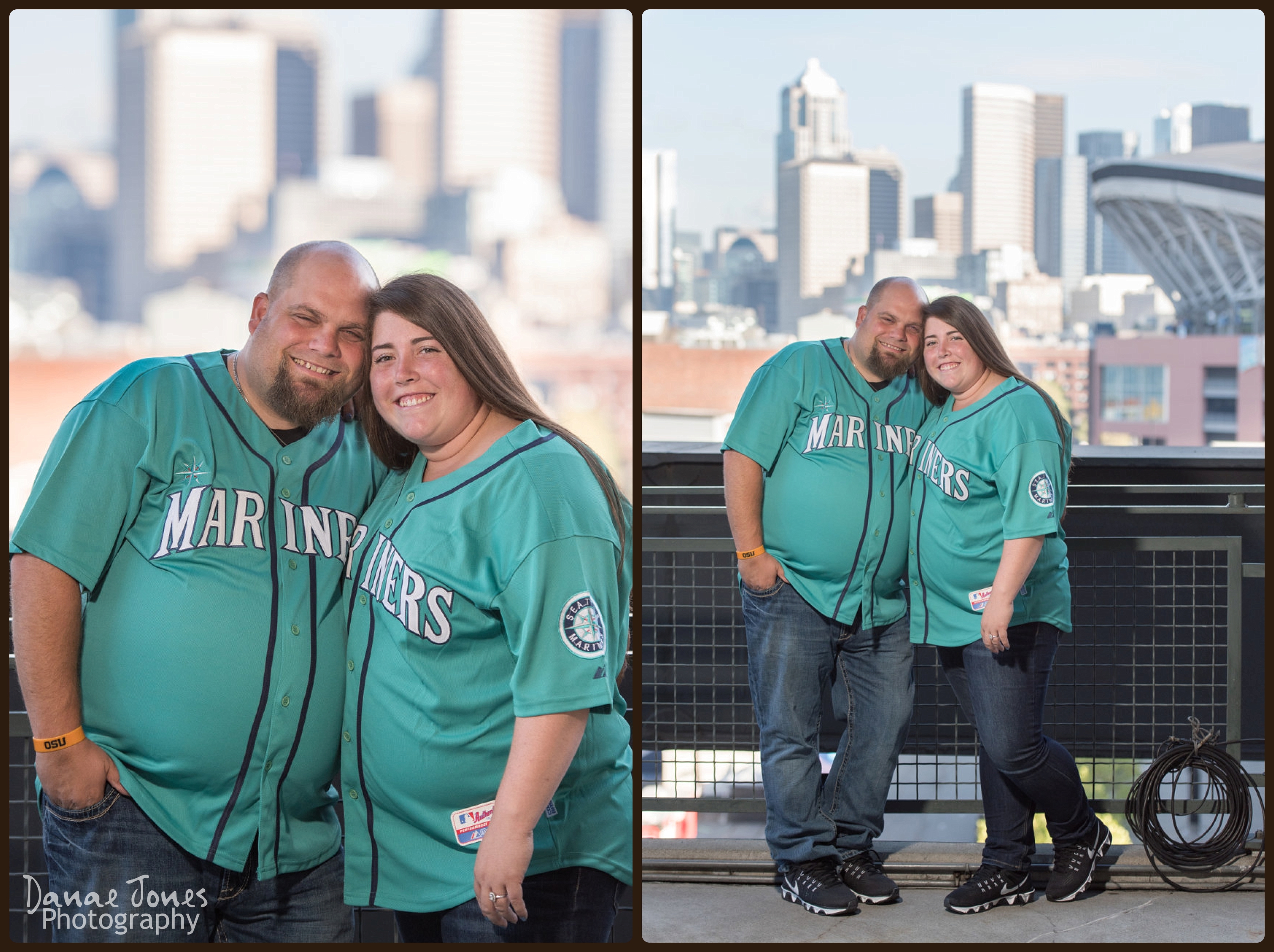 We met at the stadium bright and early and connected with our private tour guide Mary. Immediately we followed Mary to the elevator and took the quick trip up to the very top of the stadium. The view from the top was absolutely amazing, we could see downtown Seattle and out to the islands. Plus, of course, the birds eye view of the stadium. Mariners staff were bustling around like little ants below us prepping the field for that night's game.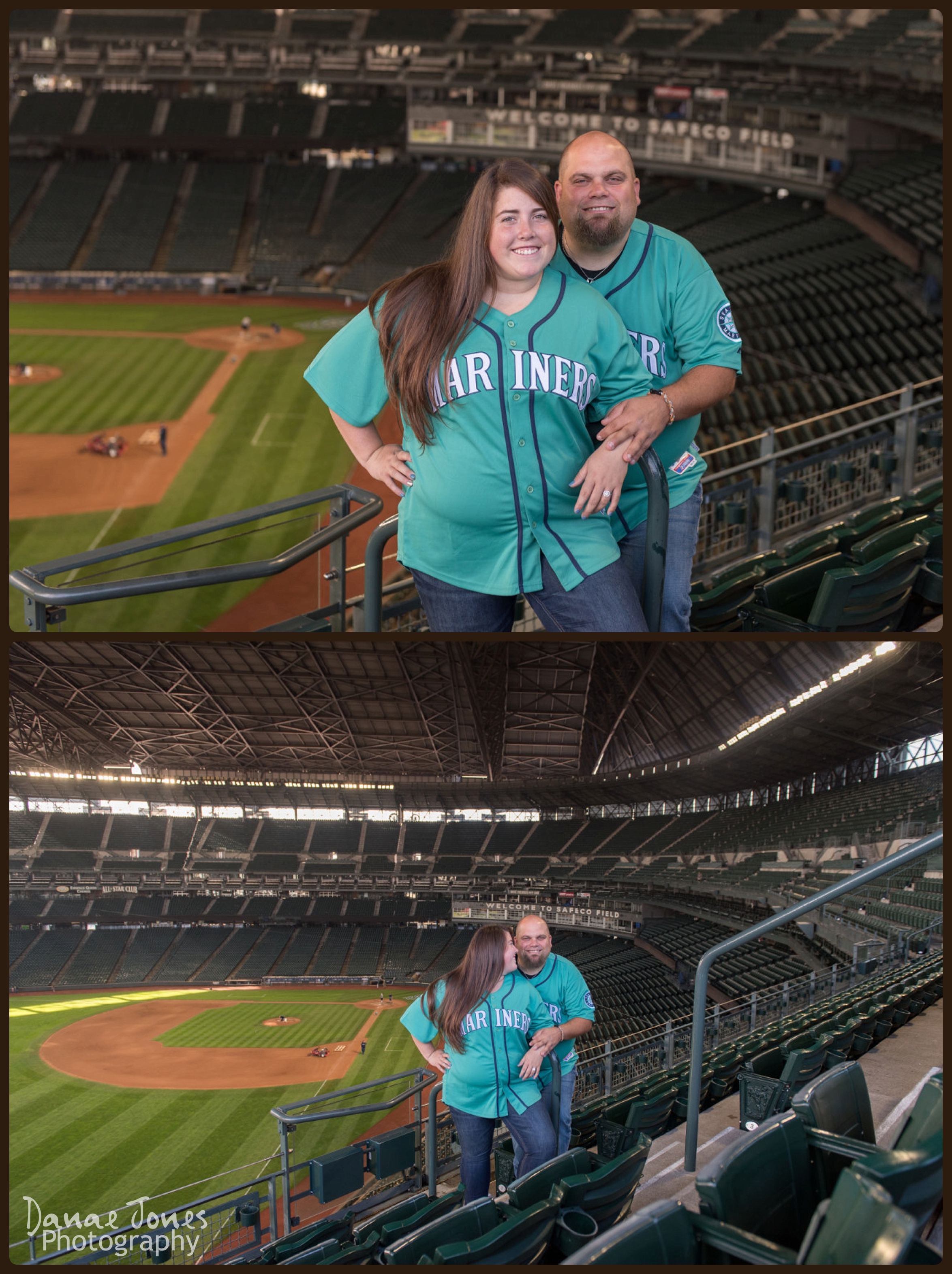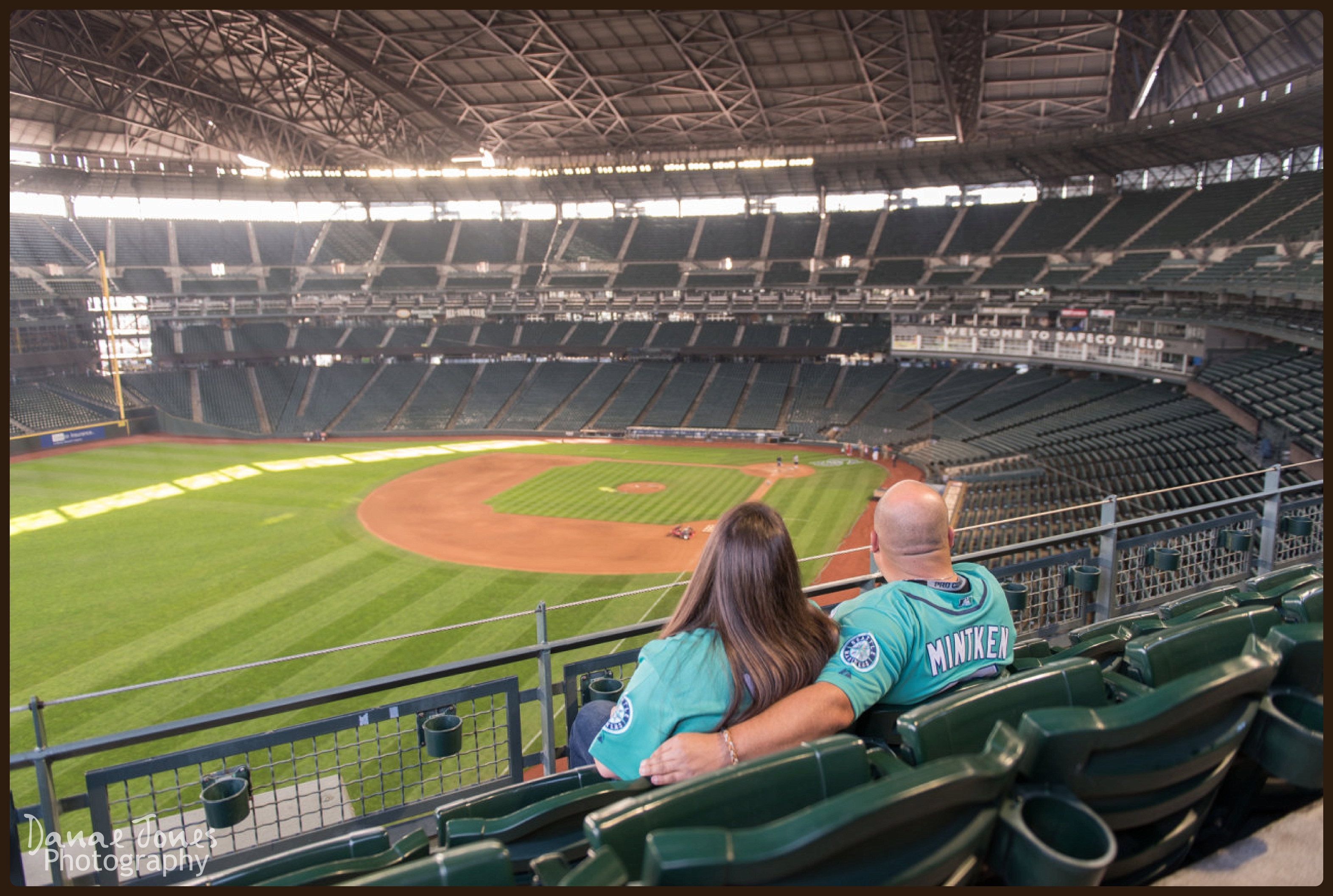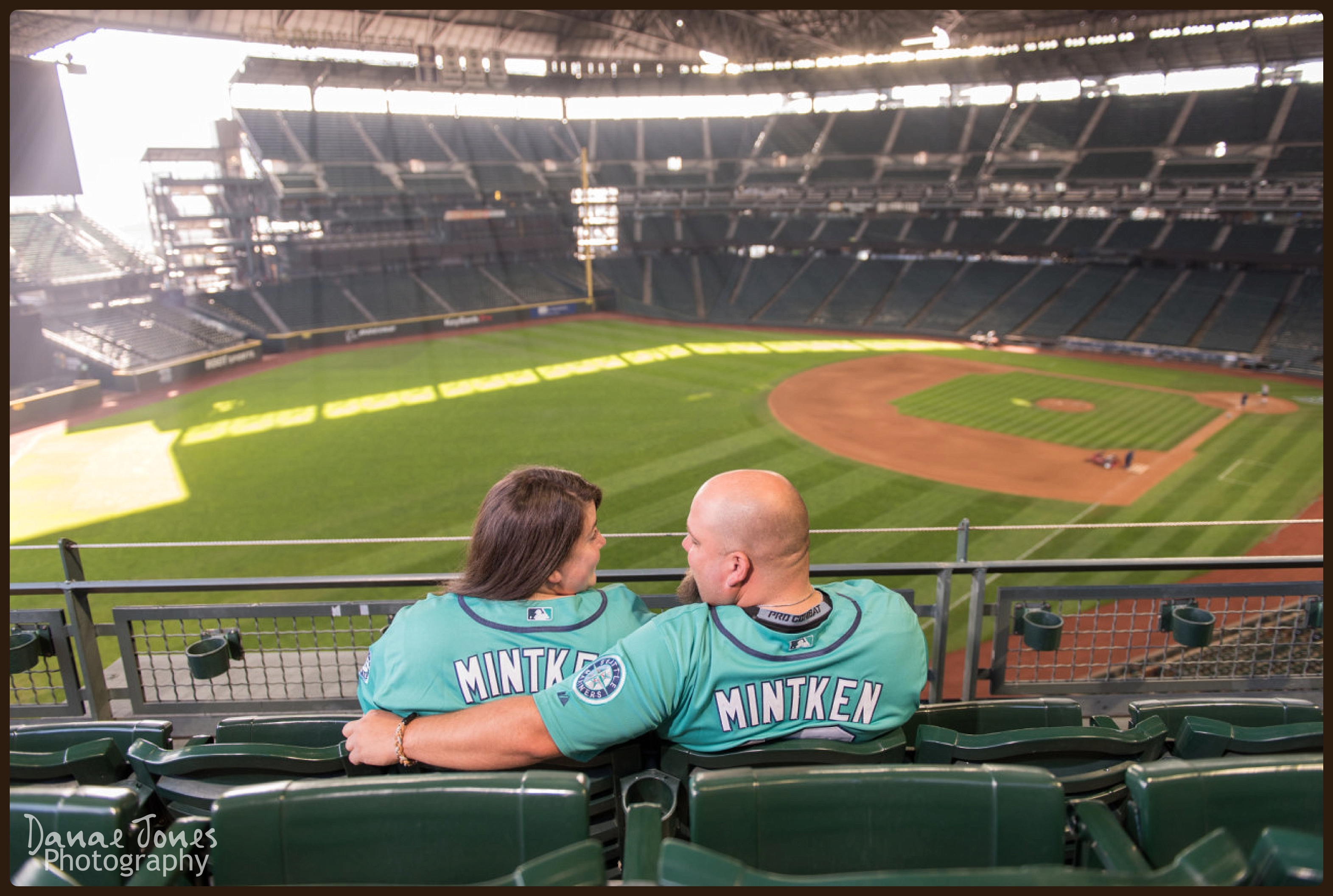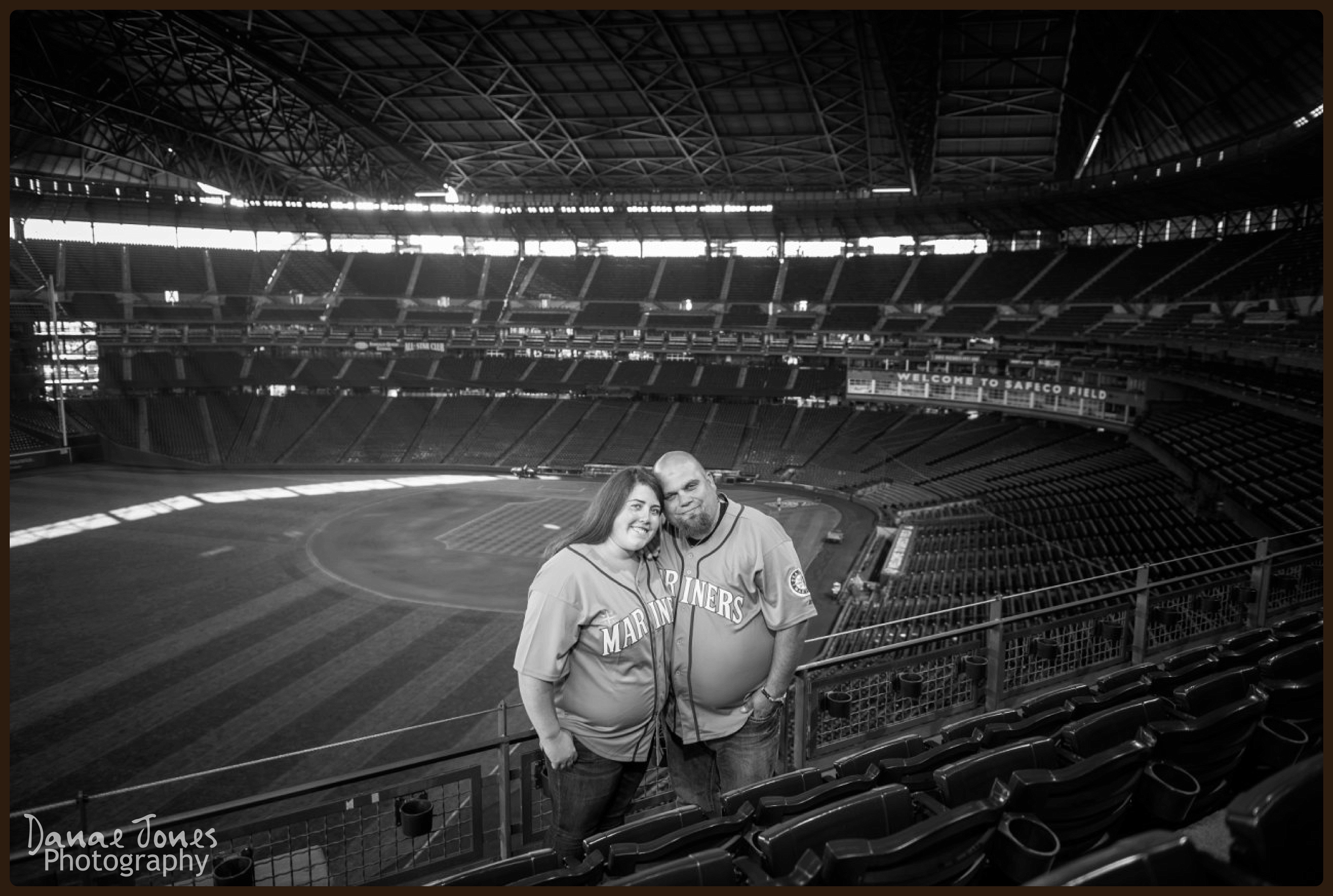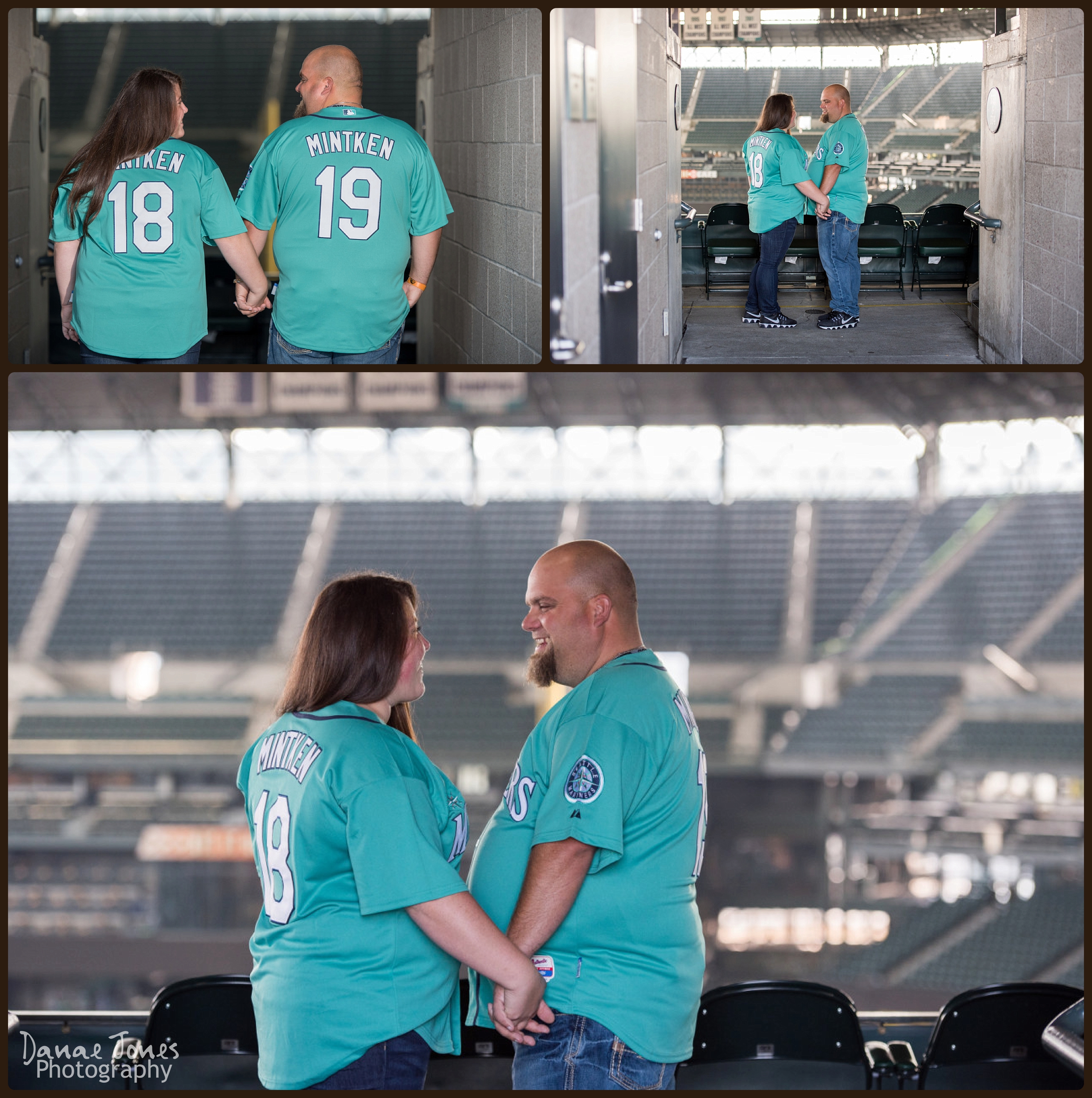 We captured some great photos from up high and continued shooting as we followed Mary around the stadium slowly snaking our way lower and lower – closer to the field.
Detours took us to the Owner's Suite, the media/interview room and the fancy Diamond Club among many other fun spots.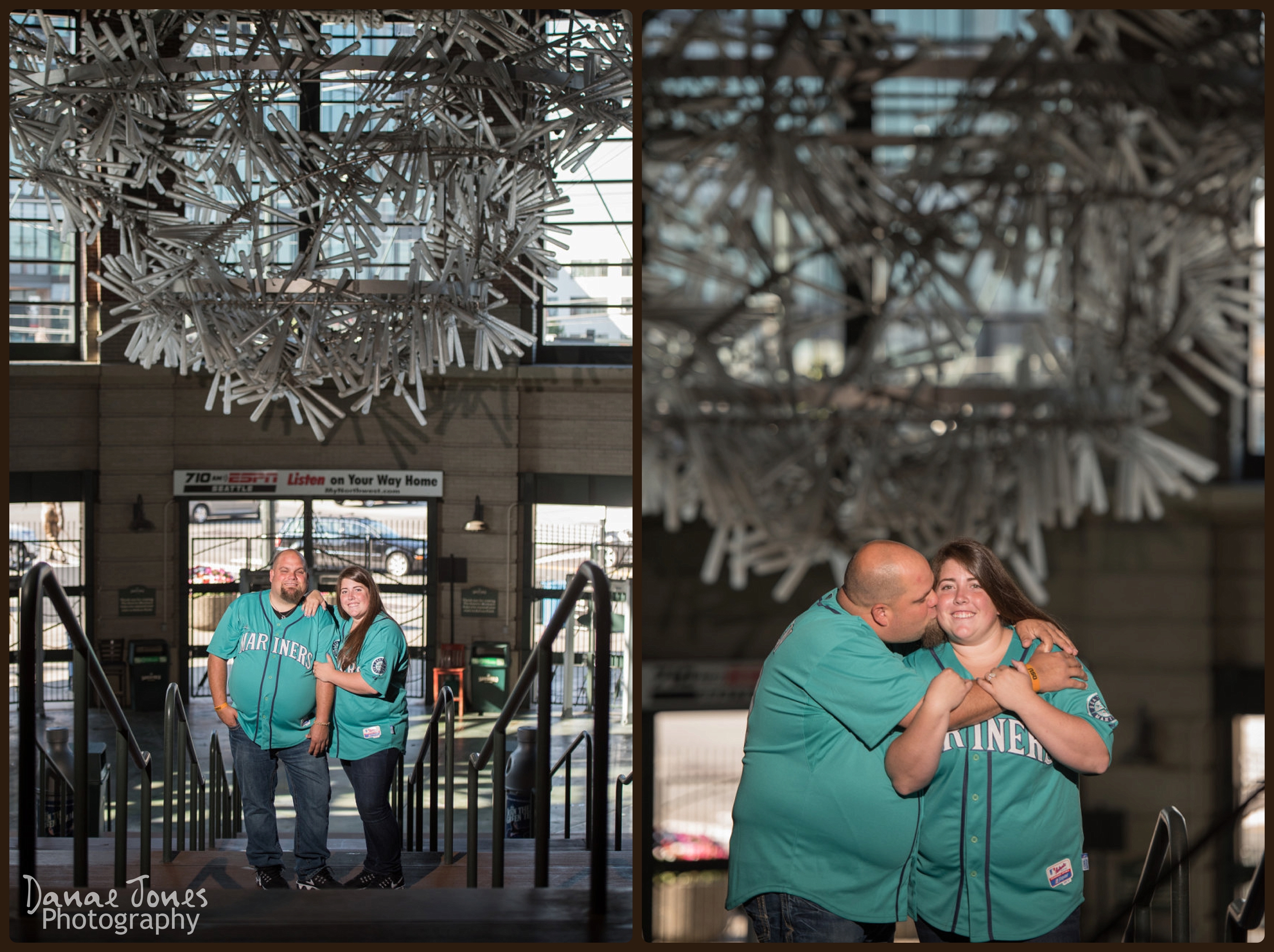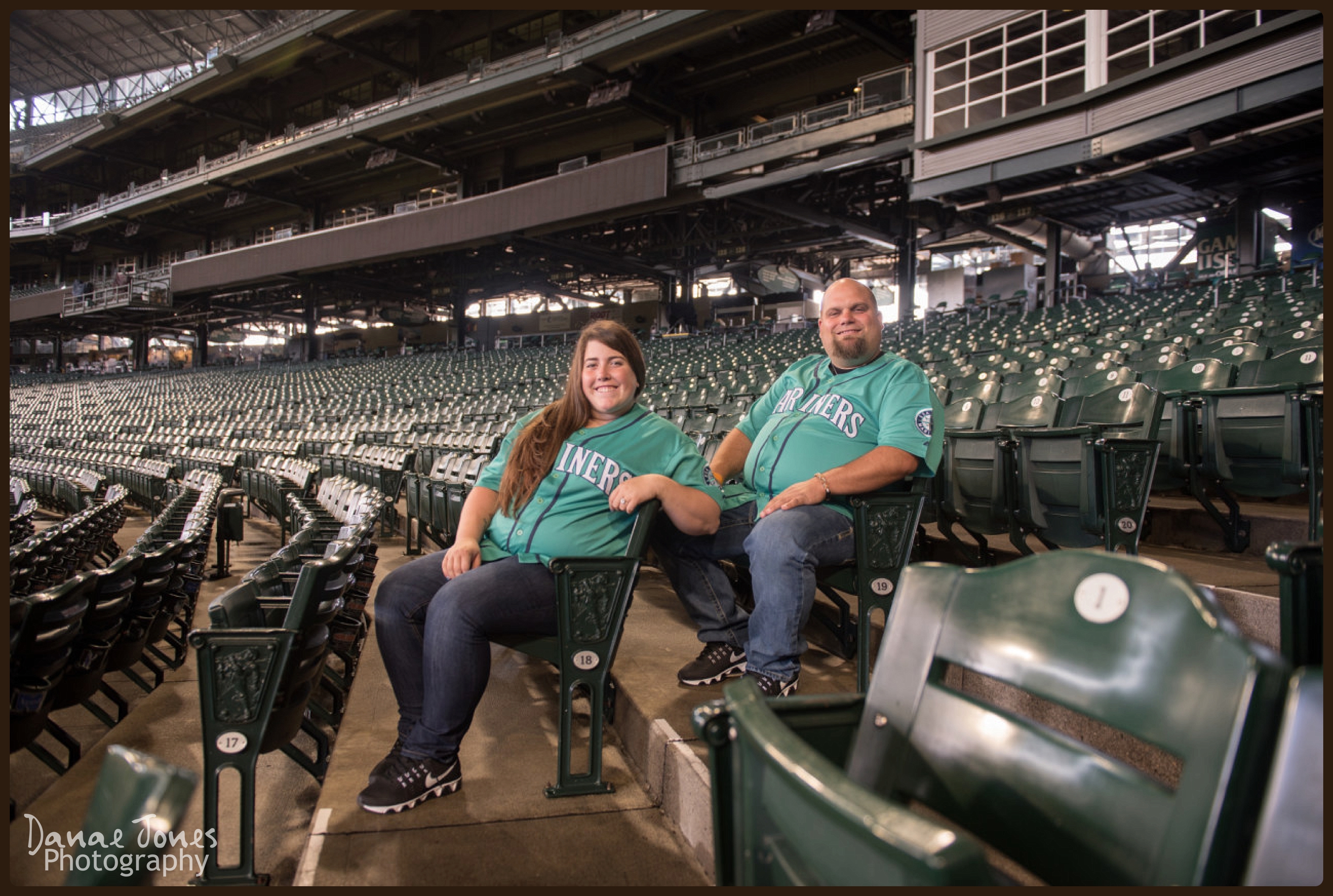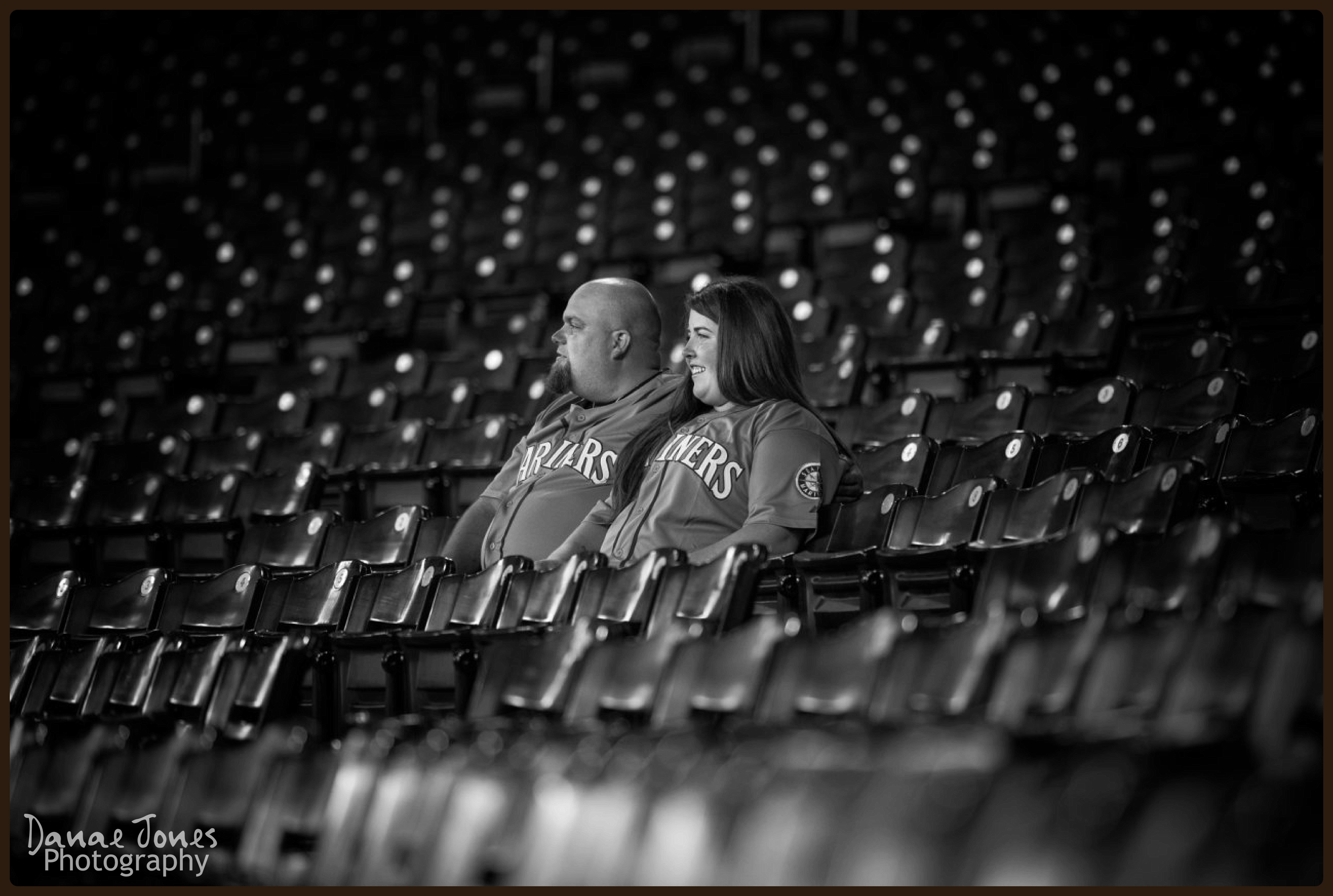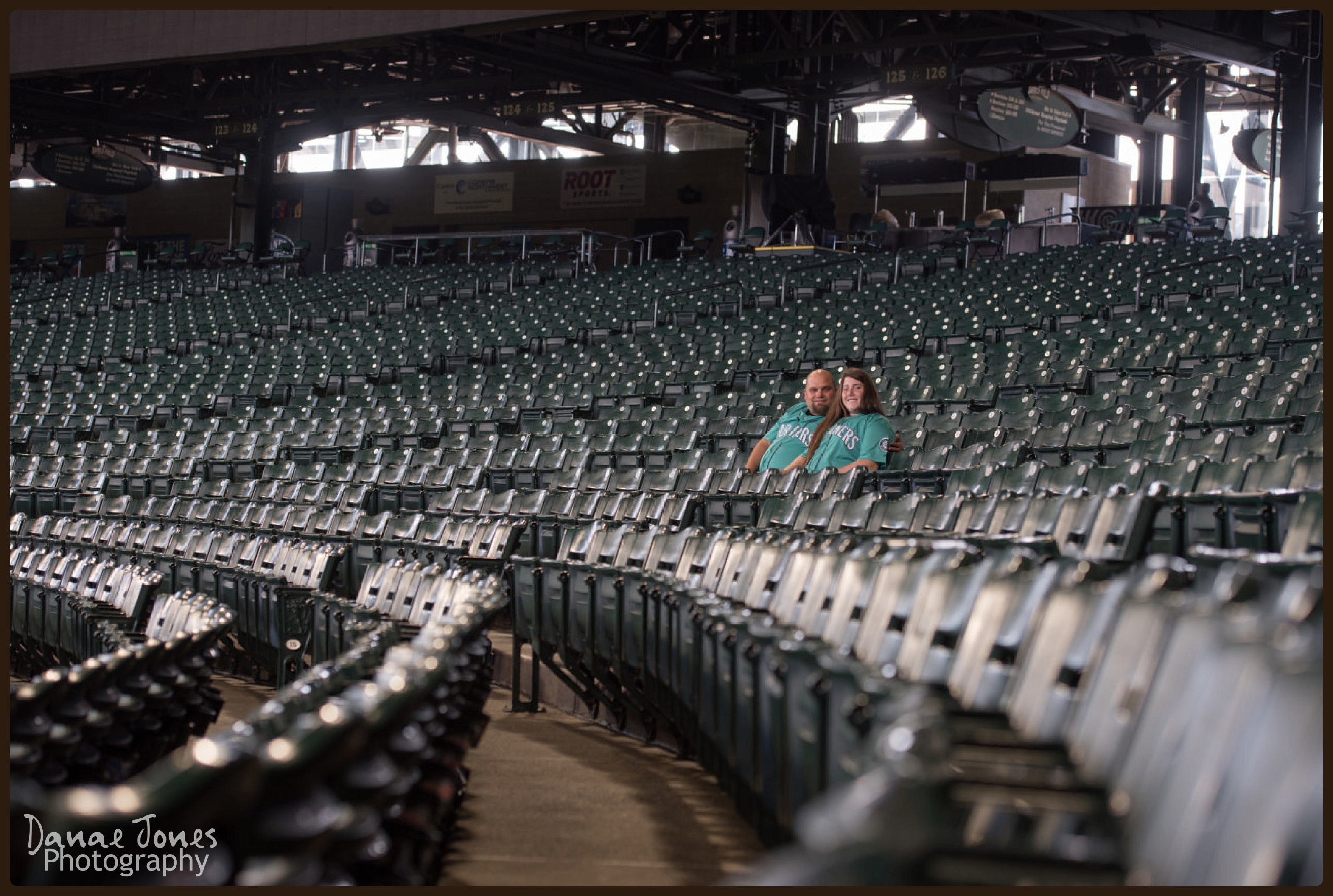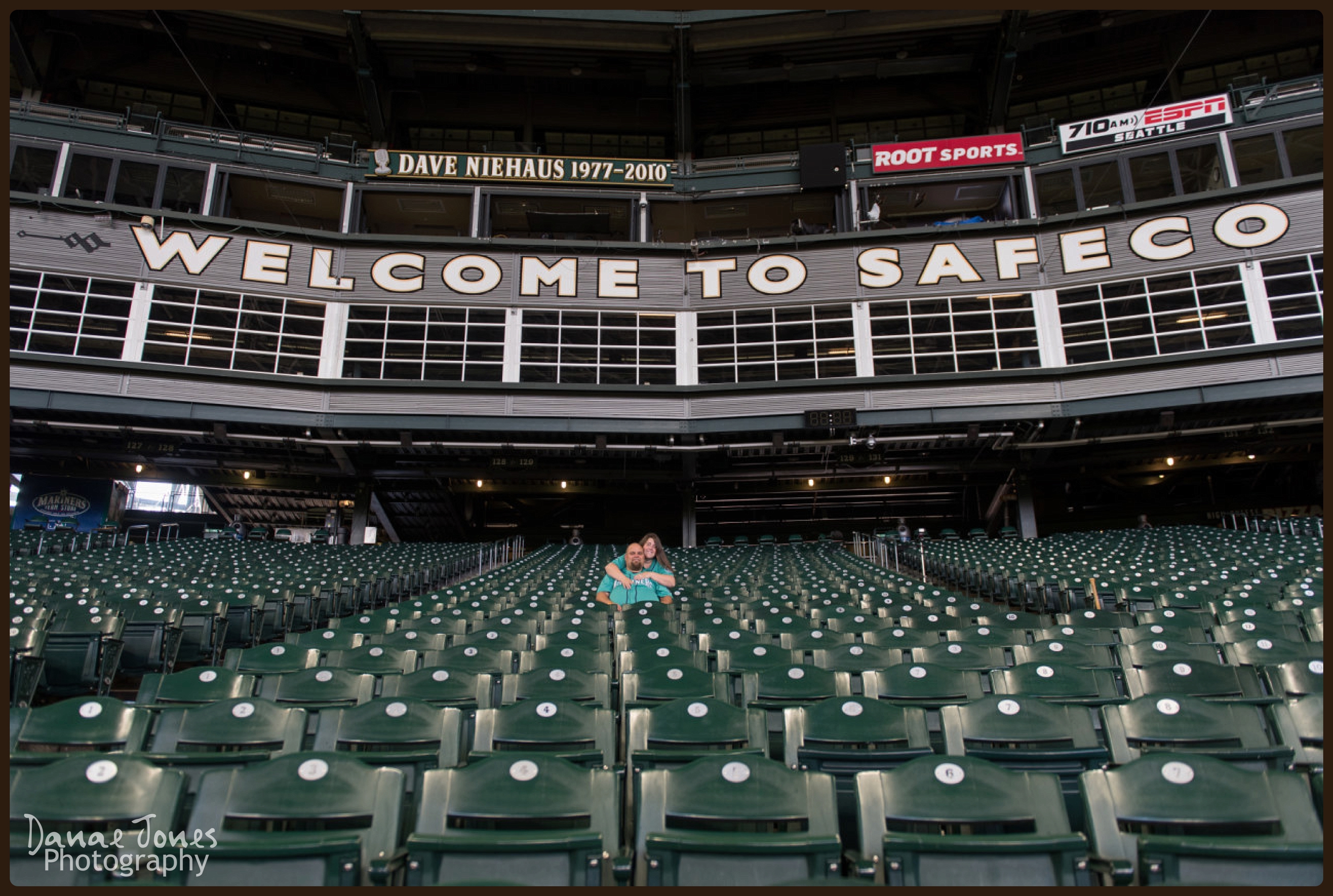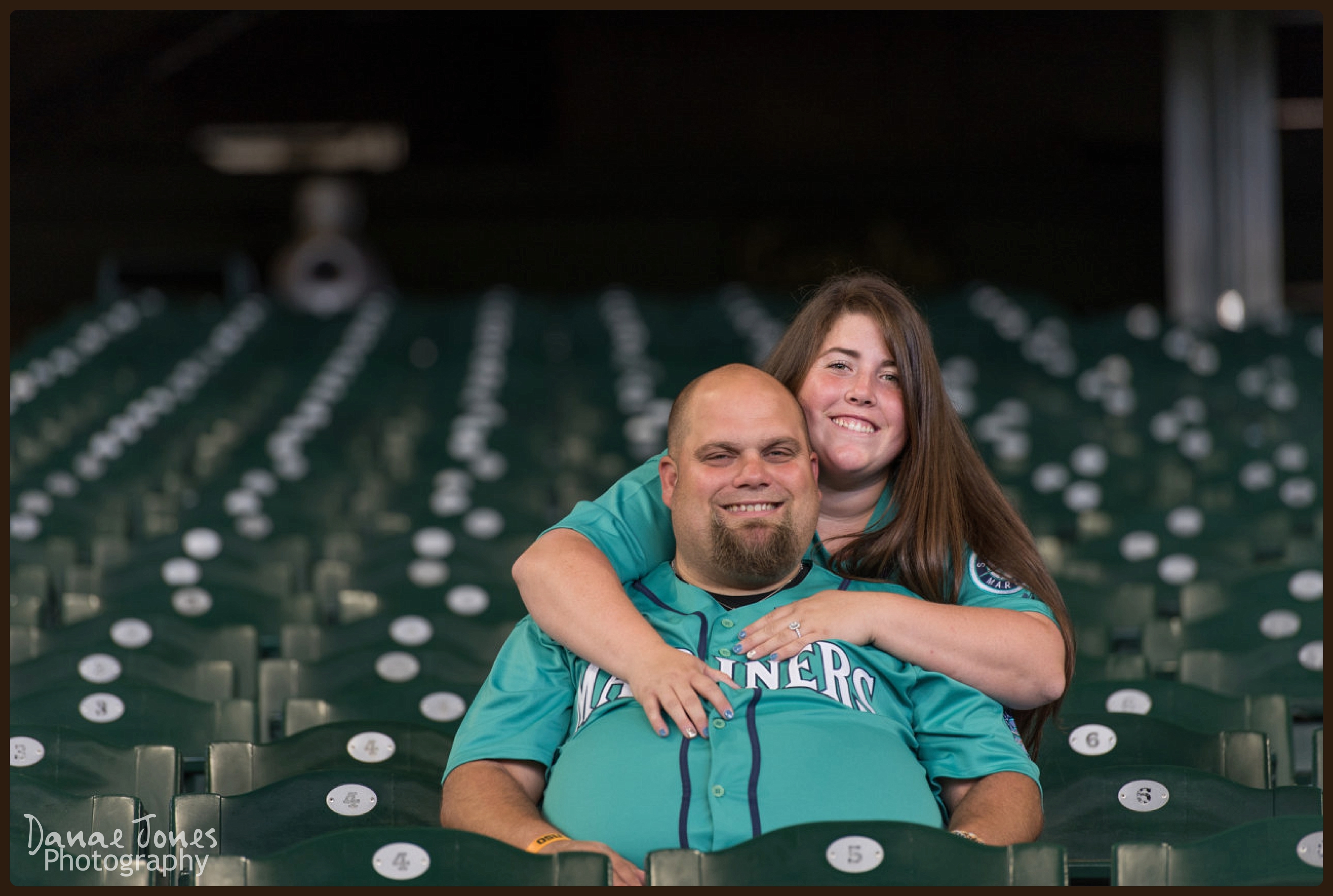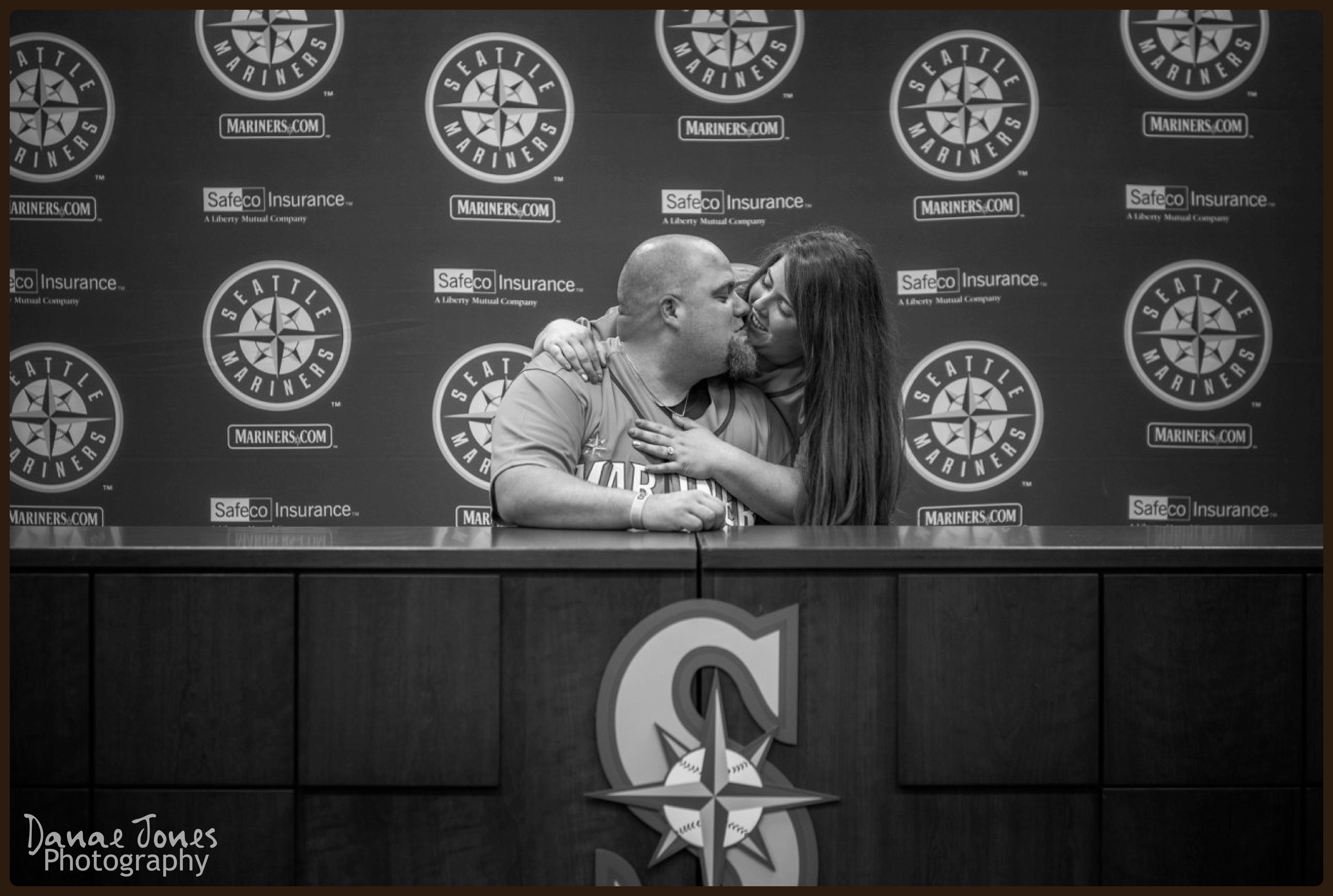 Eventually we ended up down on the field – I think there was a moment of awe for all of us as we stepped out from the tunnel onto the field. We headed for the dugouts to continue our shoot. We had been told that we could stay around the dugouts and on the warning track but to be careful not to step foot on the turf.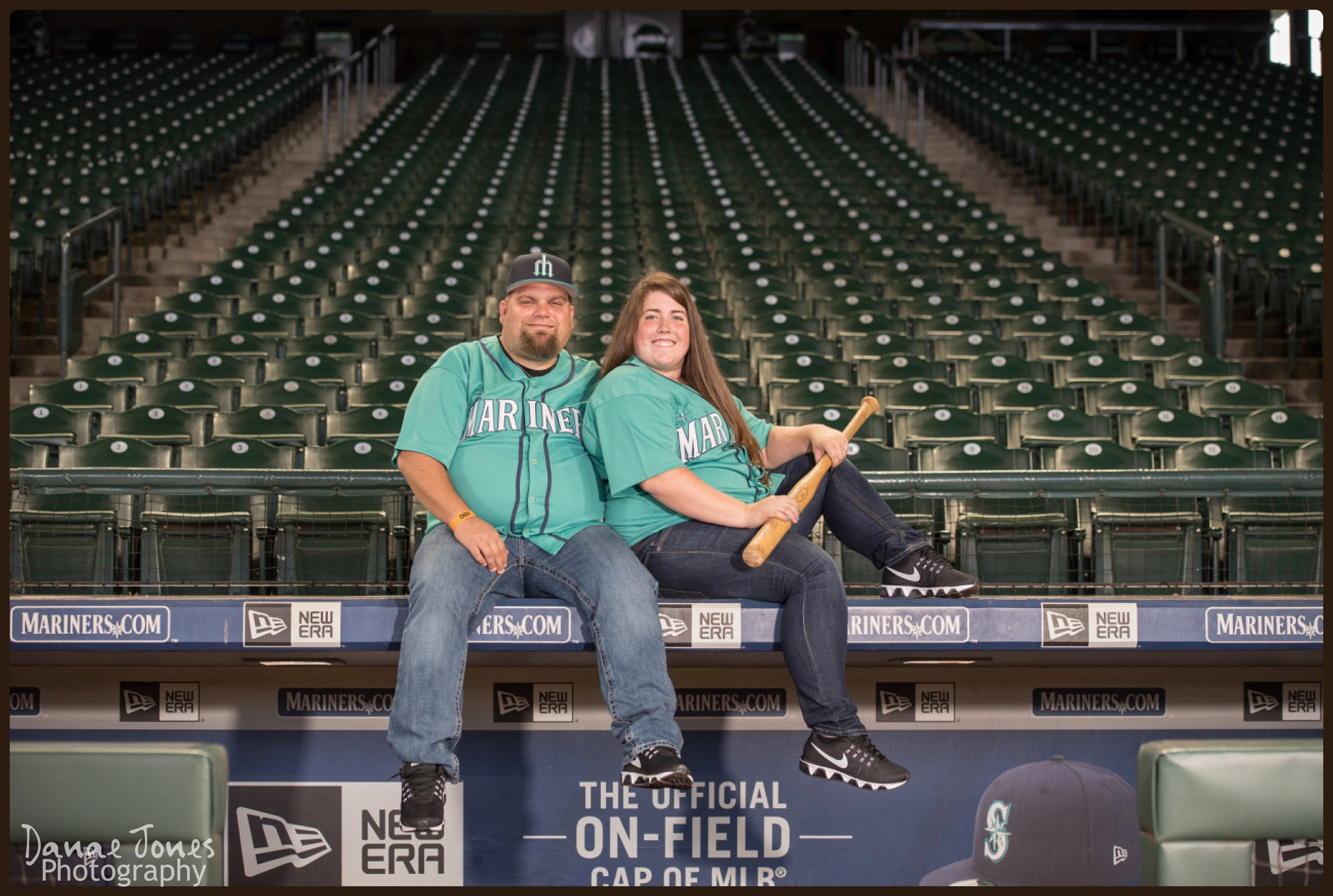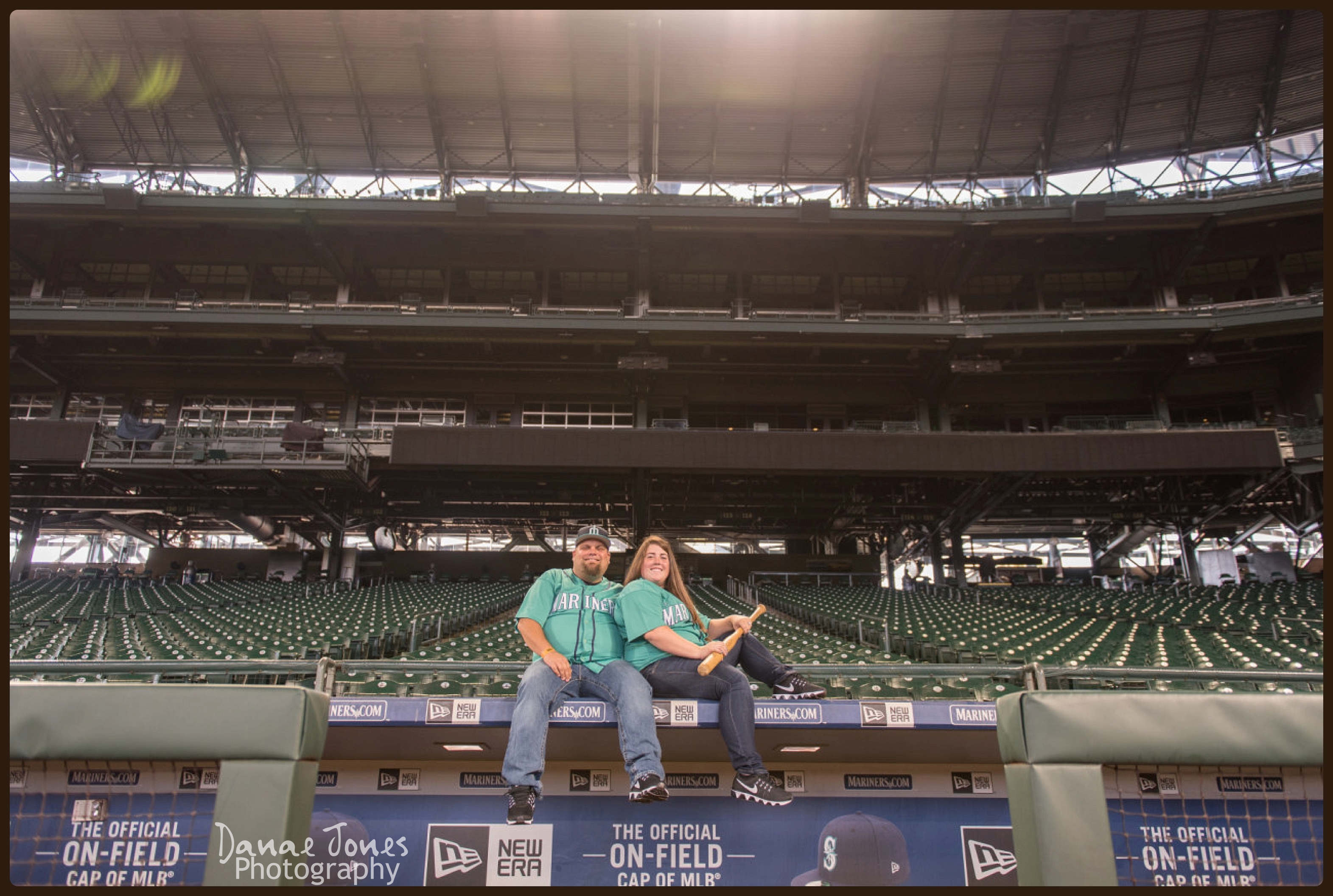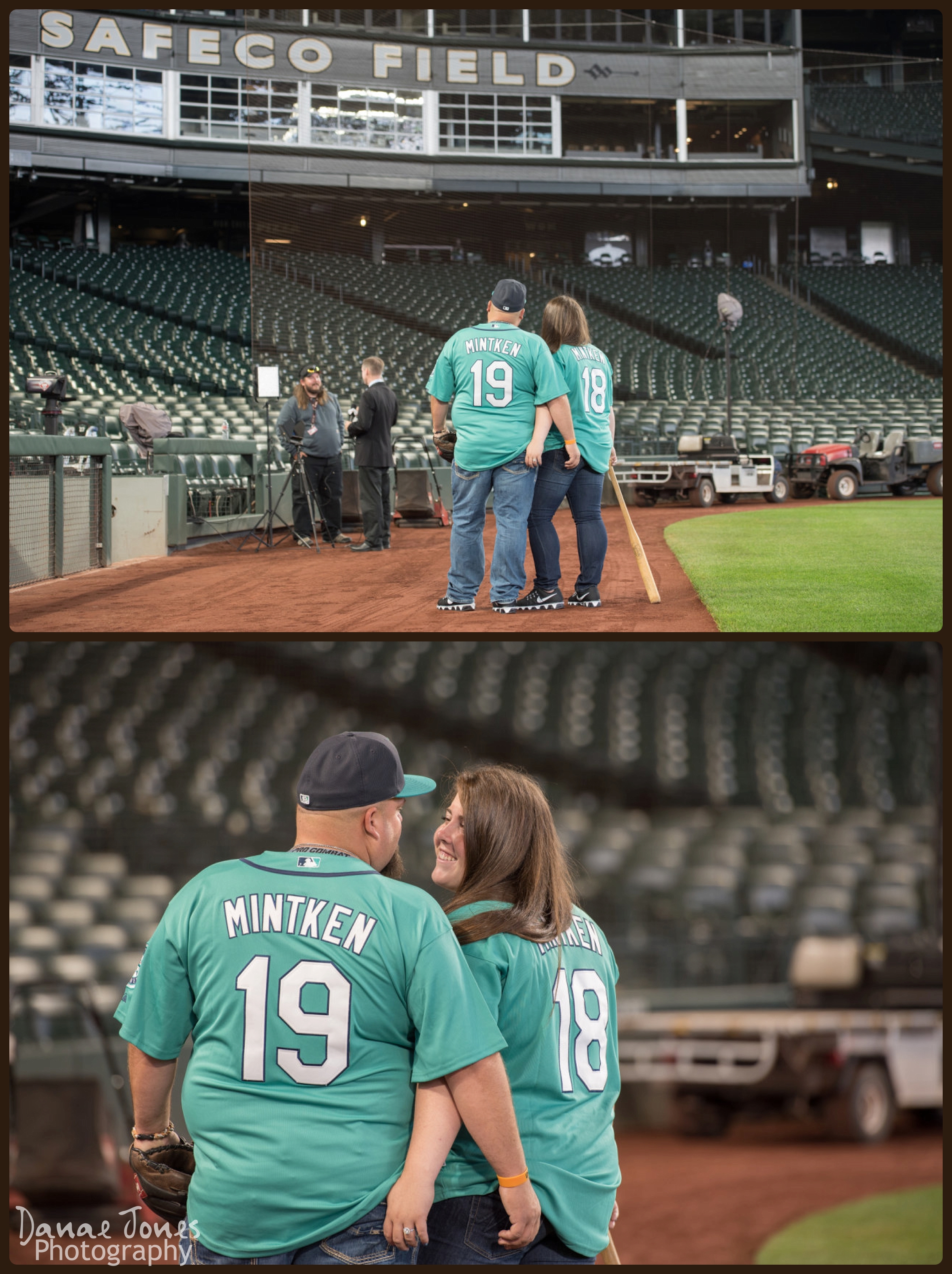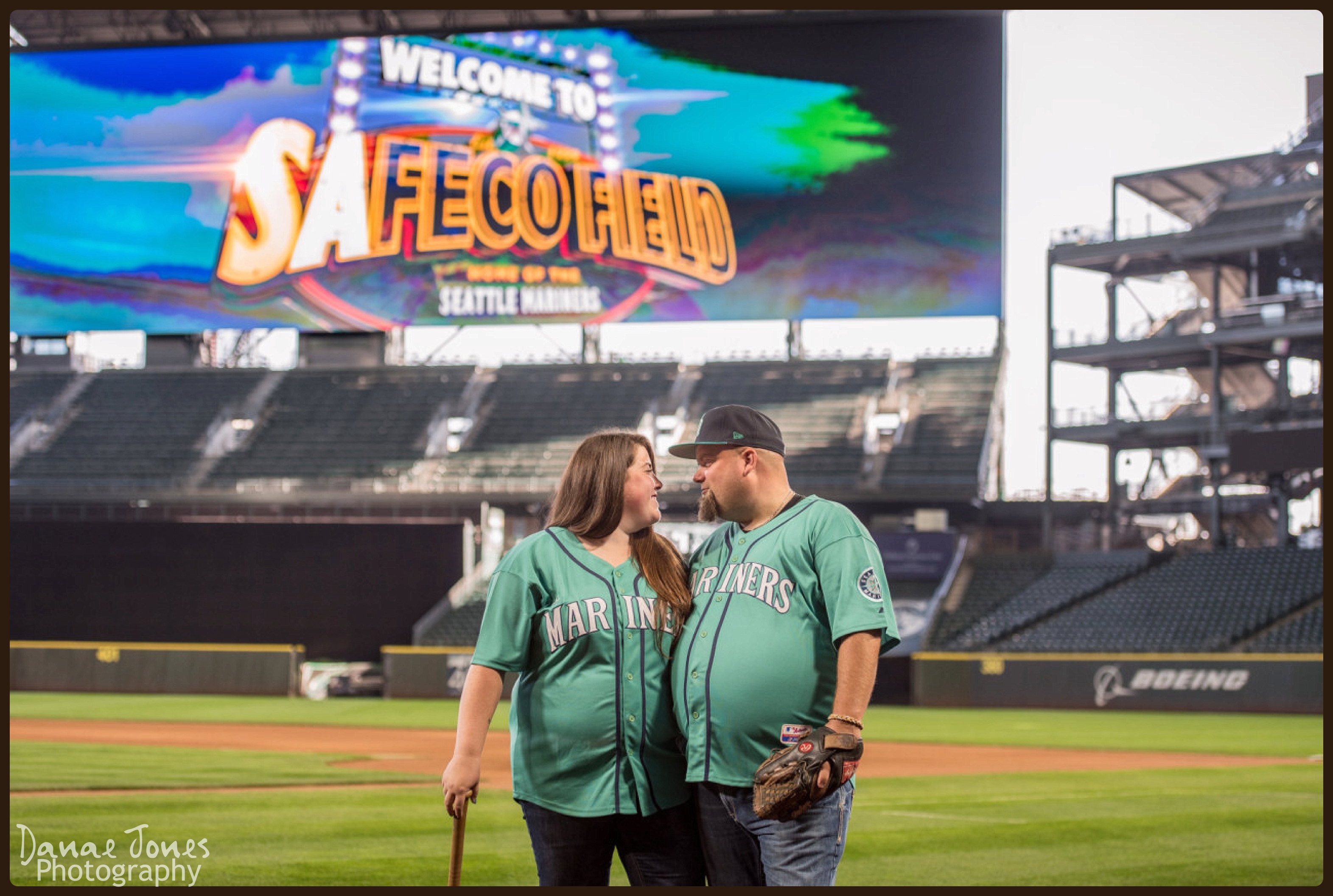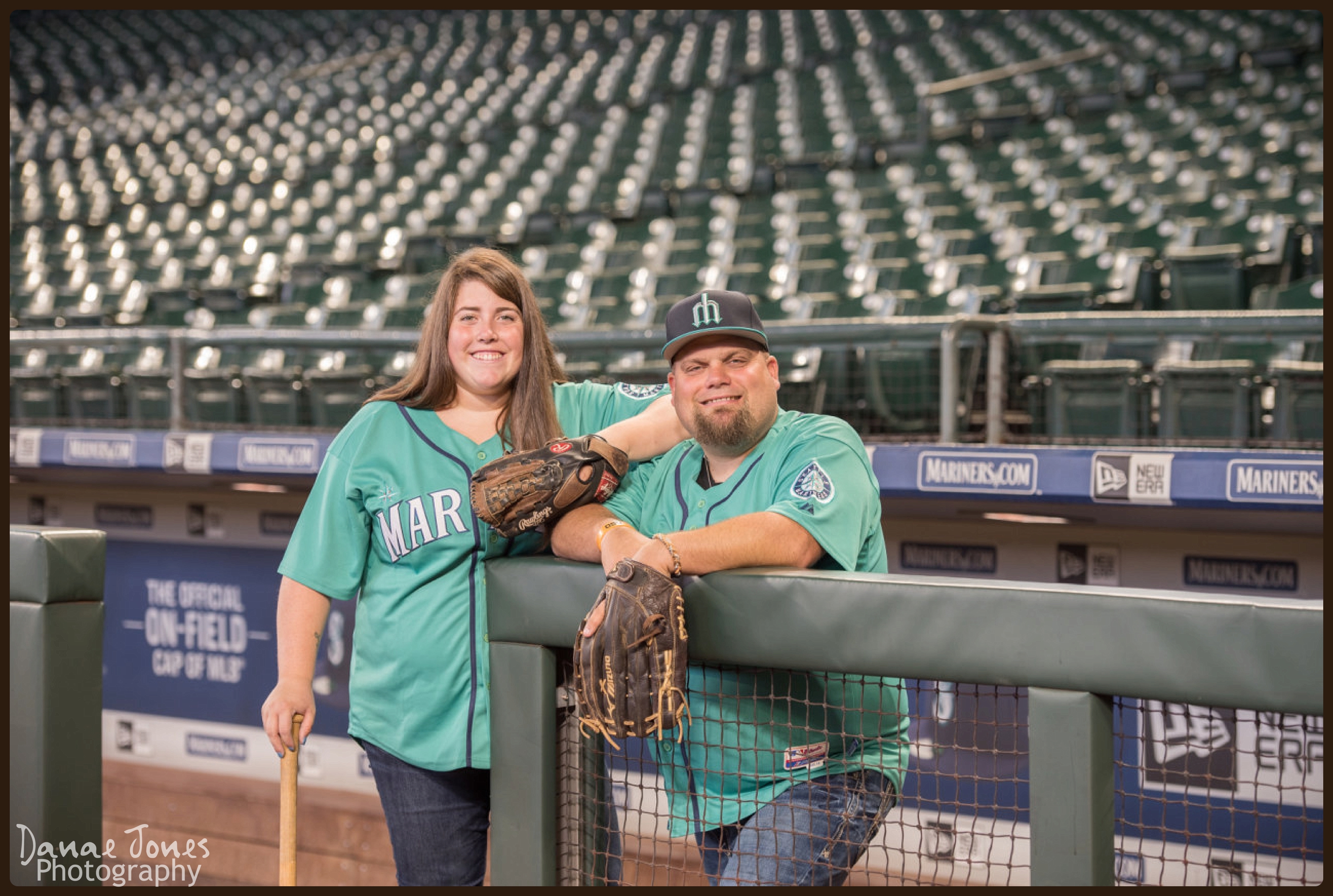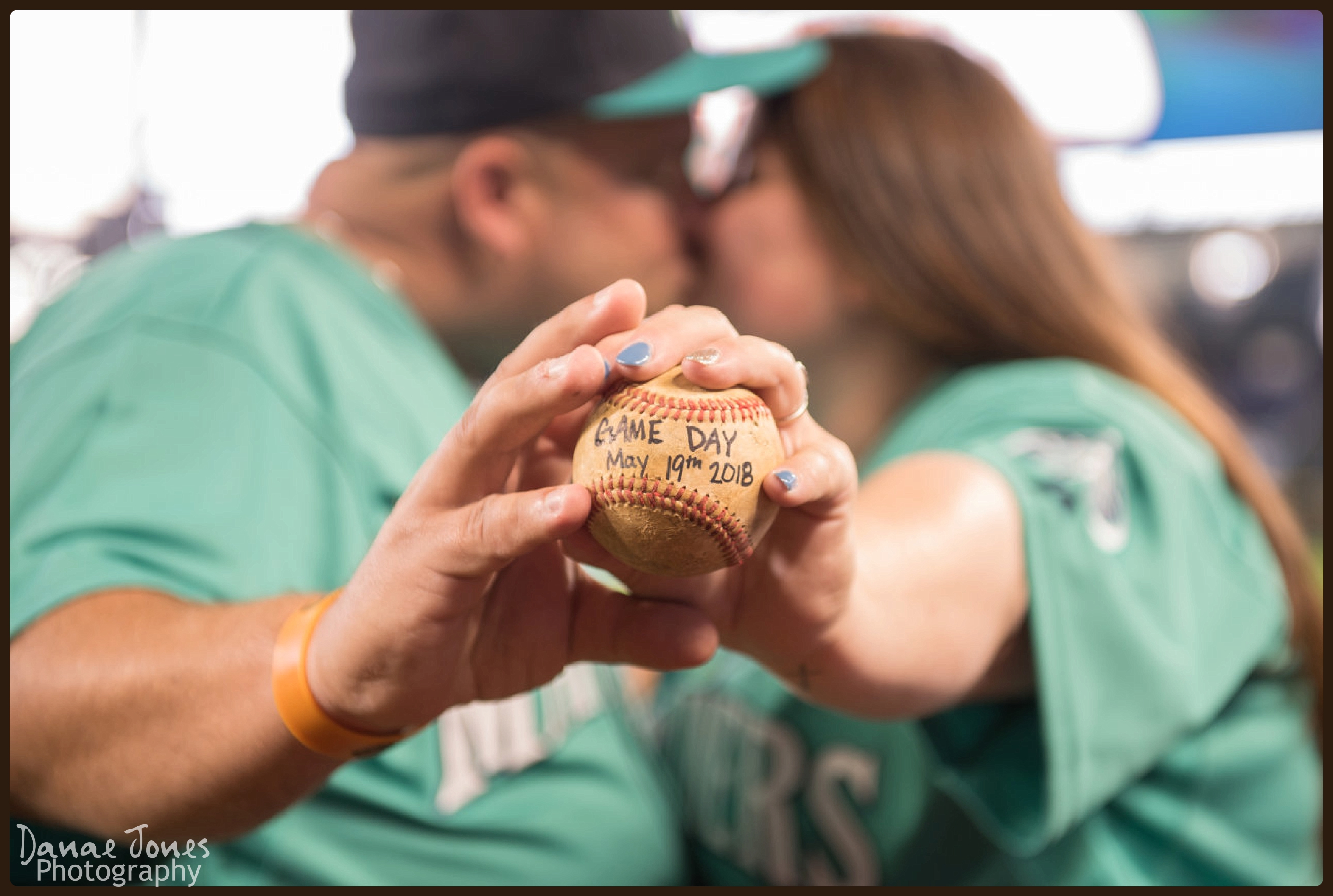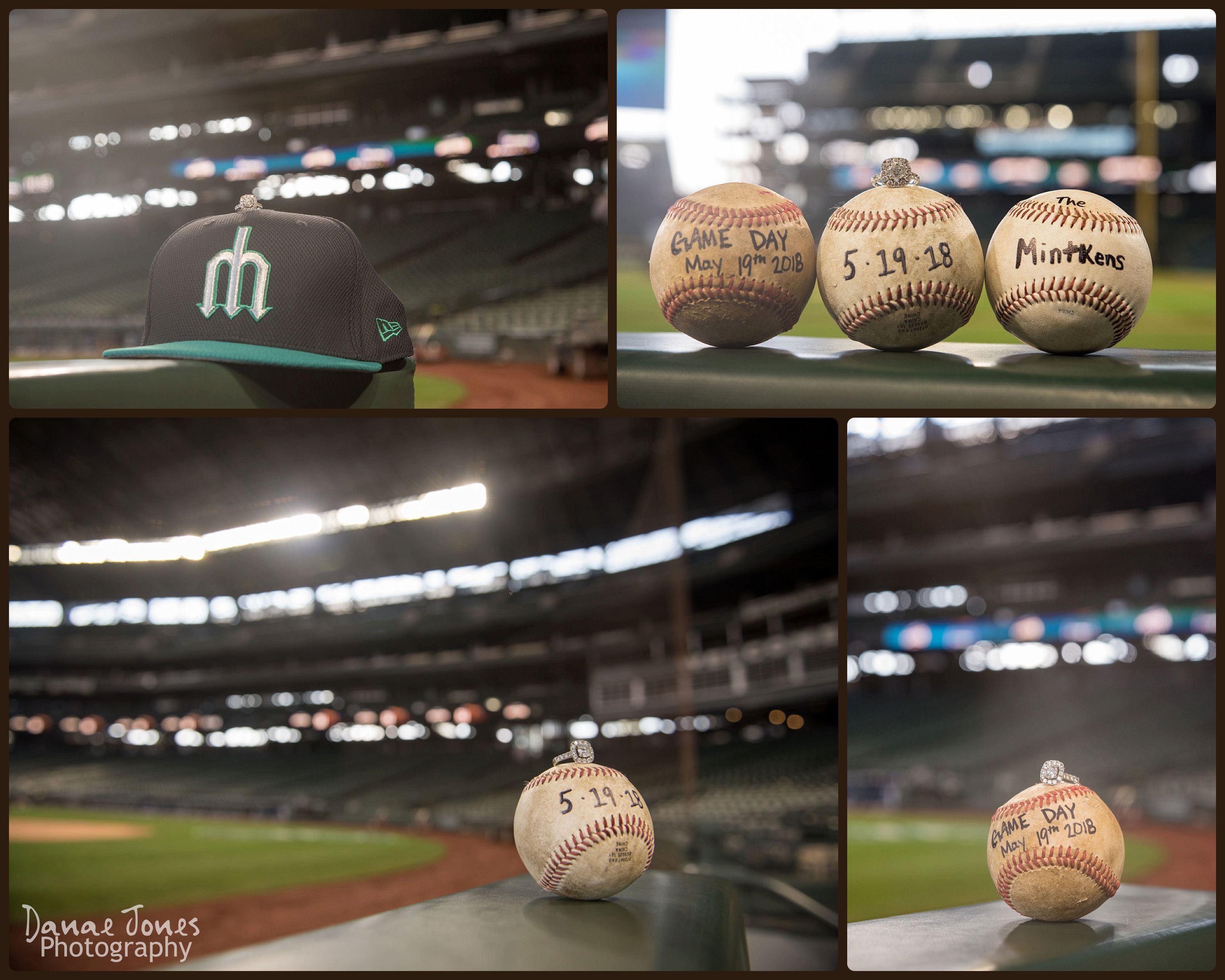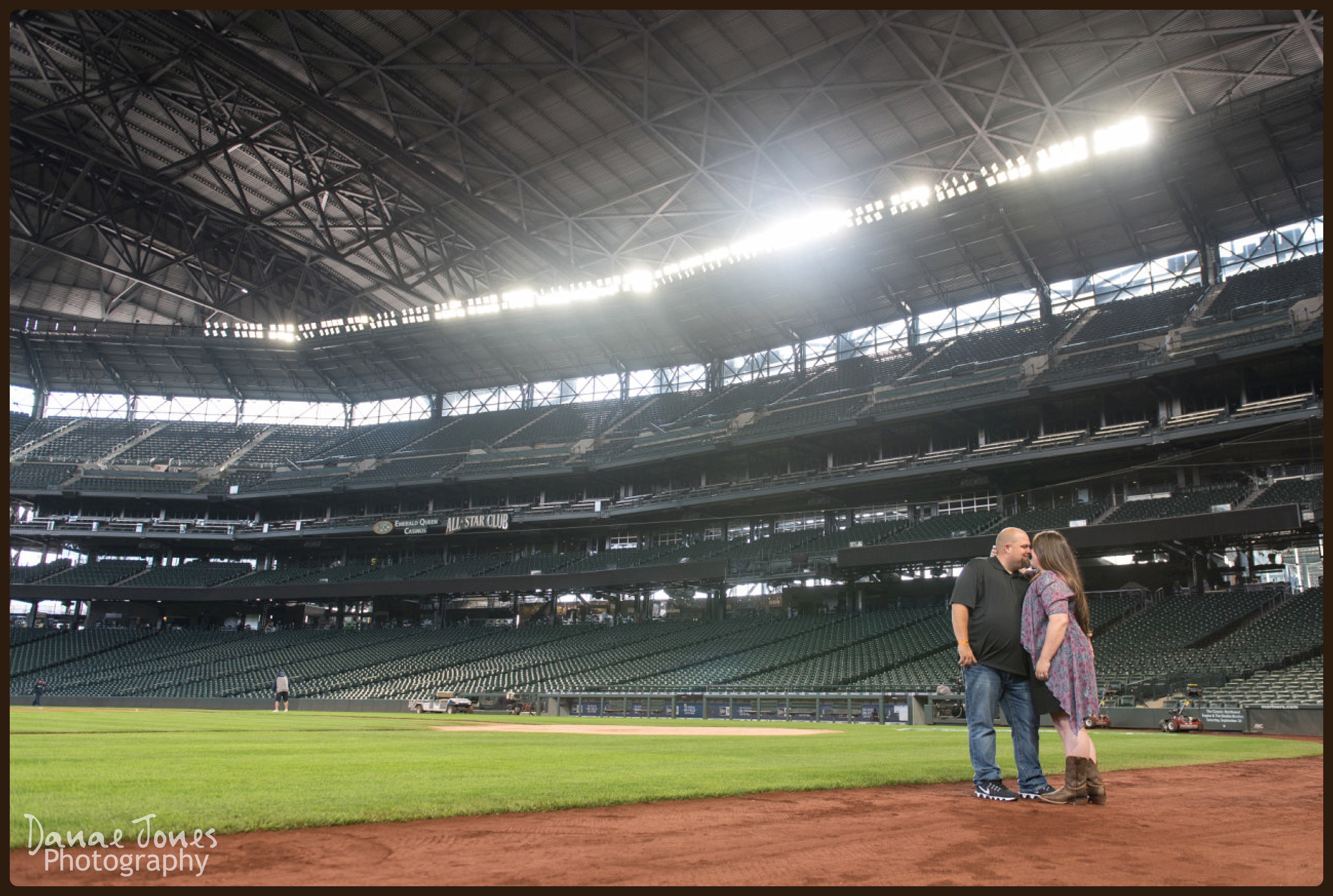 As we were shooting a man came out on the field and started chatting with Katie and Todd – asking what we were up to. As he walked away Mary informed us that we had just met Bob Christofferson, better known as the "Sod Father" – the king of the turf for the past 18+ years. We continued on with our shoot but moments later Mary walked up to us and told us that the Sod Father had asked if we'd like to walk out to the pitching mount to do photos on the actual field. Of course we did! It was a little nerve-wracking stepping out onto the turf that they were painstakingly maintaining – I'm pretty sure I looked like Bambi on ice as I tiptoed out to the pitching mound with Katie and Todd.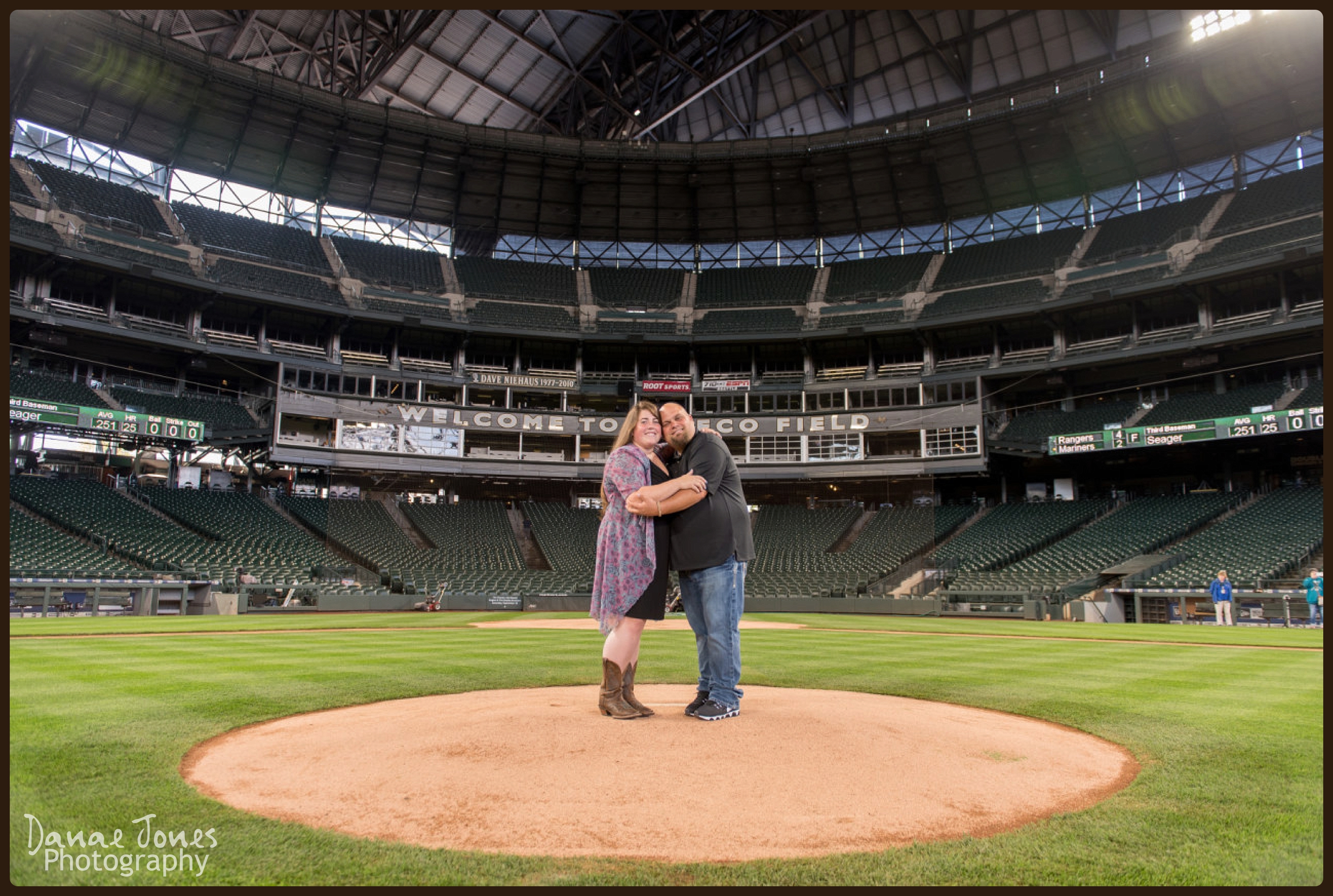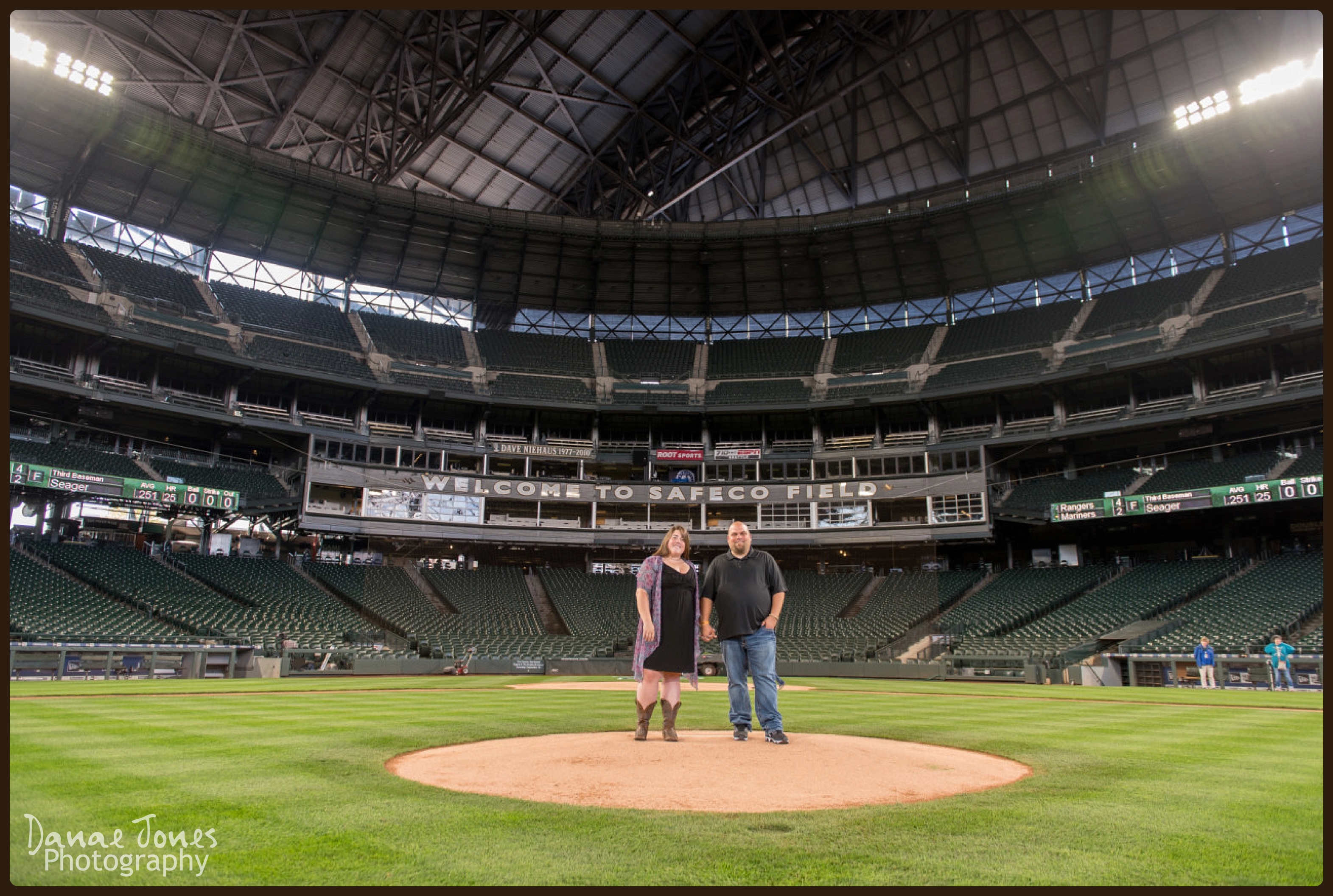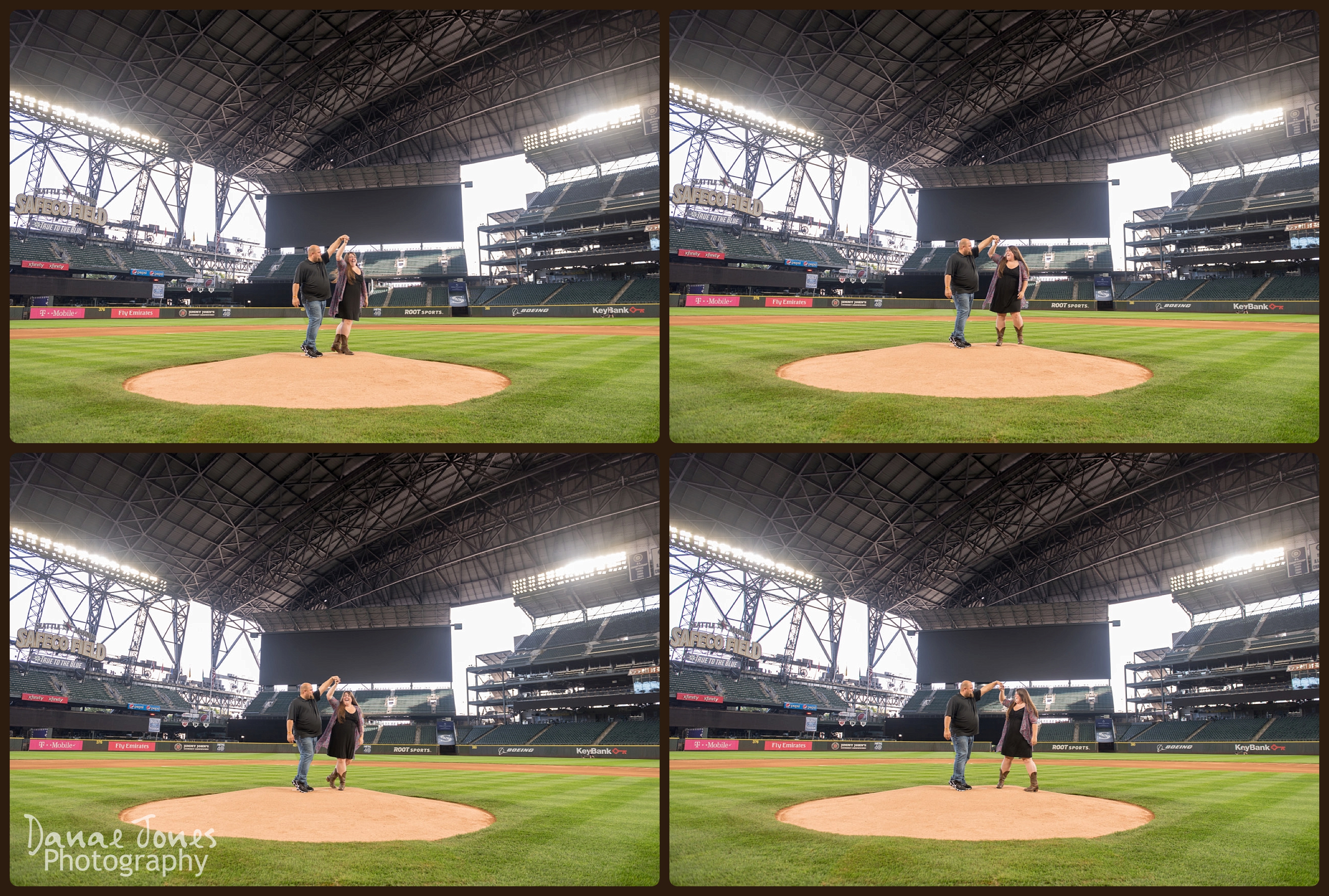 My work focuses on moments and emotions and I'm thrilled to say that these two were absolutely radiating excitement as they literally danced on the pitchers mound. How many Mariners fans can say they got to dance with the love of their life on the pitchers mount at Safeco Field?! An absolute highlight of the day for these two (and ME!)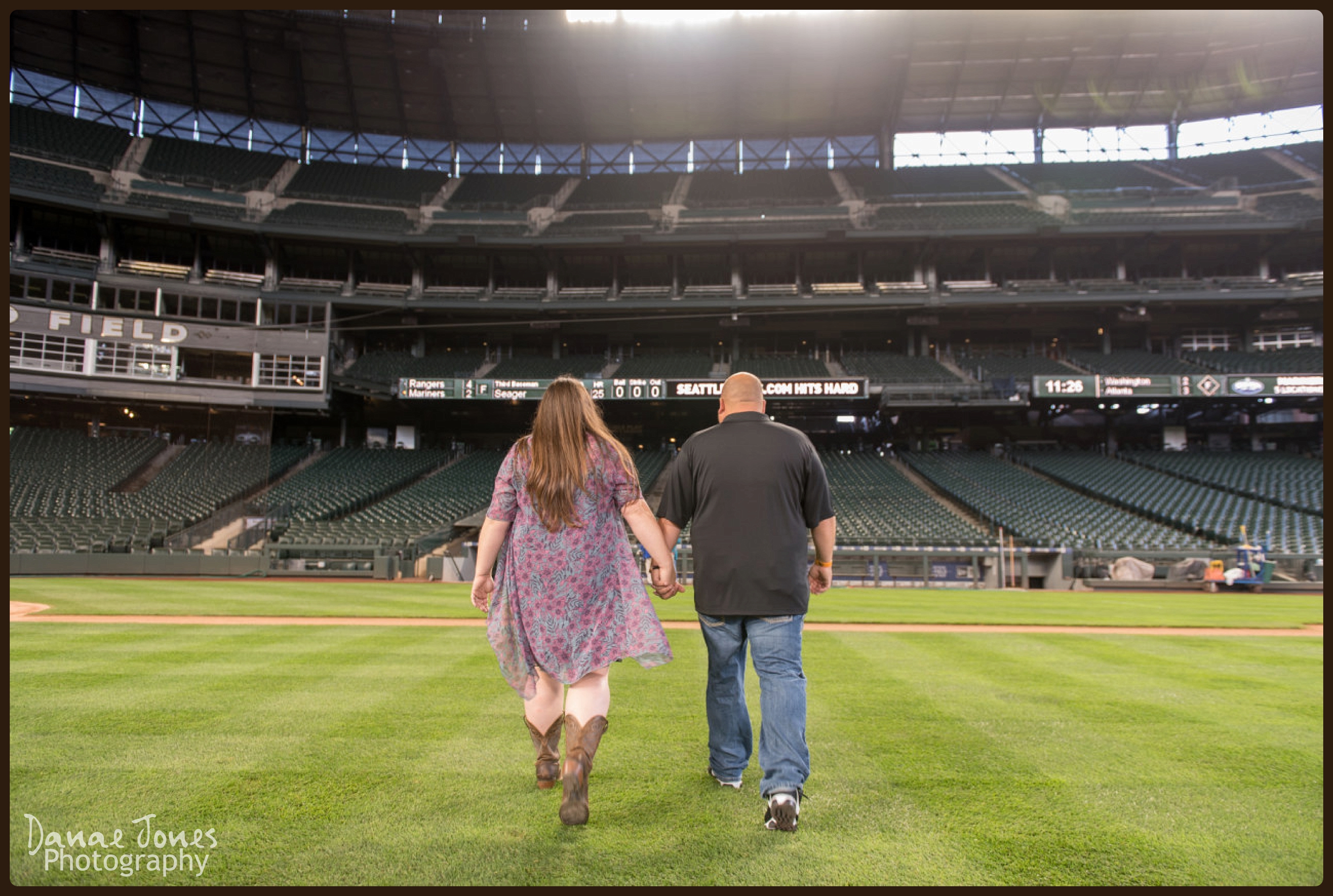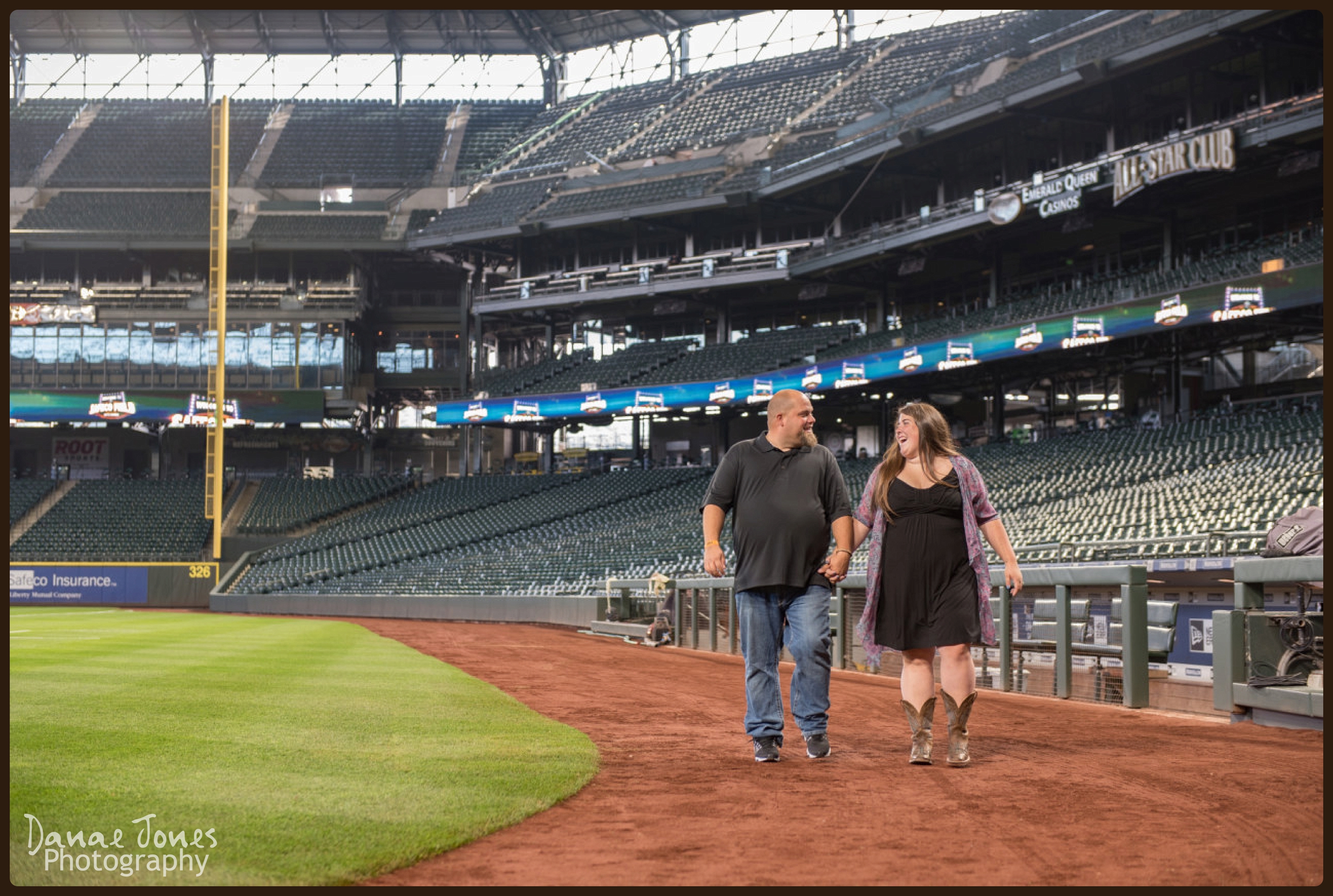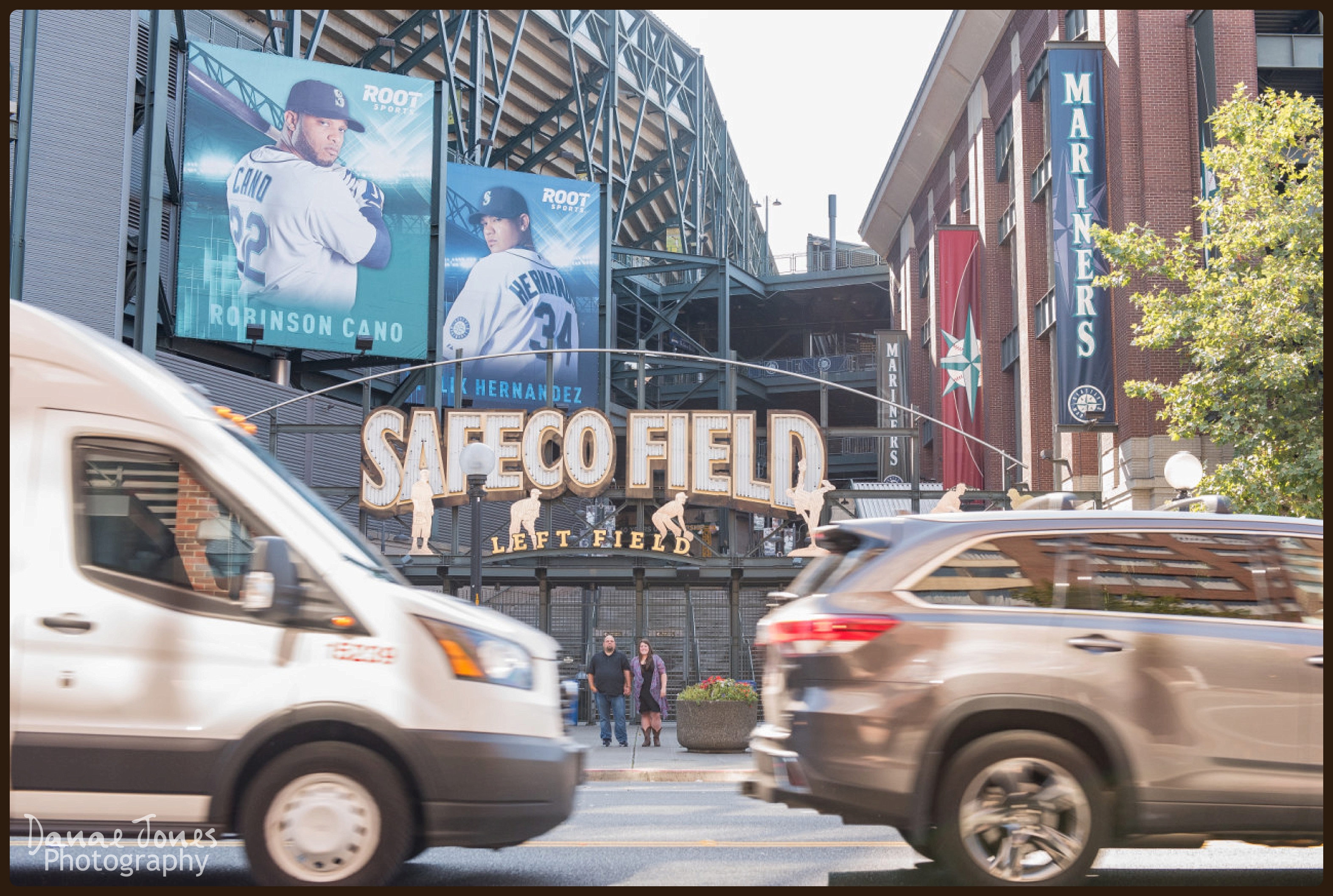 Thank you Katie and Todd for trusting me with your big vision for your engagement session.
Do YOU want to do something out of the box for your engagement session or need help planning a session that reflects your personalities and hobbies? I'd LOVE to connect with you. Contact me today and lets chat!